Is a travel cot safe for a newborn?
2023-05-21 22:00
When it comes to choosing a travel cot for a newborn, safety is of utmost importance. Newborns require a secure and comfortable sleeping environment to ensure their well-being. Here are the key factors to consider when determining whether a travel cot is safe for a newborn:
1. Sturdy Construction: A travel cot should be built with a solid and stable frame to prevent any tipping or collapsing. Look for cots that meet safety standards and have been tested for stability.
2. Breathable Materials: Ensure that the cot's mattress and sides are made of breathable materials. This allows for proper airflow, reducing the risk of suffocation or overheating. Mesh sides are particularly beneficial as they offer improved ventilation and visibility.
3. Firm Mattress: A newborn's sleeping surface should be firm to support their developing bodies and reduce the risk of suffocation. Avoid travel cots with excessively soft or plush mattresses.
4. Secure Fastenings: Check that the travel cot has secure fastenings, such as sturdy zippers or clips, to keep the cot securely assembled. This prevents accidental collapse or unauthorized access by the baby.
5. Safety Certifications: Look for travel cots that meet recognized safety standards, such as those certified by ASTM International or JPMA (Juvenile Products Manufacturers Association). These certifications ensure that the cot has undergone rigorous testing for safety and durability.
6. Sufficient Depth: The cot's sides should be high enough to prevent a newborn from rolling out but not so high that they pose a risk of entrapment. Additionally, ensure there are no gaps or spaces where the baby's head or limbs could get stuck.
7. Stability and Balance: The cot should have a stable and balanced design, with wide and secure support legs. This helps prevent tipping or wobbling, ensuring the safety of the newborn.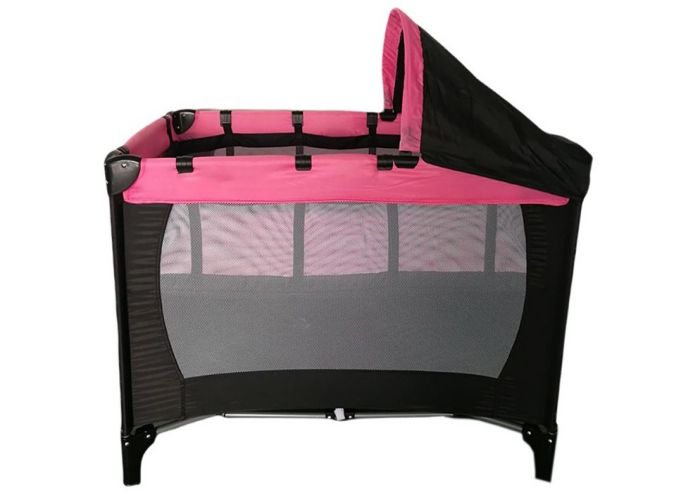 8. Non-Toxic Materials: Opt for travel cots made from non-toxic materials, as newborns are more susceptible to chemical sensitivities. Look for certifications such as Greenguard or Oeko-Tex Standard 100 to ensure the cot is free from harmful substances.
9. Clear Assembly Instructions: The travel cot should come with clear and detailed assembly instructions. Follow these instructions carefully to ensure proper setup and safe usage.
10. Parental Supervision: Lastly, even with a safe travel cot, it's essential to always supervise your newborn while they are sleeping or resting. Regularly check on them to ensure their comfort and safety.
By considering these factors, you can choose a travel cot that provides a safe and secure sleeping environment for your newborn during your travels. Remember, a newborn's safety should always be the top priority, and it's crucial to follow the manufacturer's guidelines and recommendations for safe usage.
Get the latest price? We'll respond as soon as possible(within 12 hours)